When choosing a watch, it's important to note that one size does not fit all. Therefore, if you want to buy a timepiece, you need to know how to select a watch that is right for your wrist. People with bigger wrists tend to look balanced in almost all designs and usually have more options. How about women with small wrists? The key isn't so much the timepiece, but a balance between the proportions of your wrist and the watch. We are going to help you figure out a perfect women's watch for small wrist.
1. Case Size and Case Thickness
A measurement smaller than 38mm should be more suited for a woman's delicate wrist. For those of you whose wrists range from 15cm to 17cm, 36 – 38mm could work depending on your tastes. Slim and lightweight designs of 36mm or less are the best choices for girls with small wrists.
Ultimately the "correct" size depends on personal preference and which size feels most comfortable.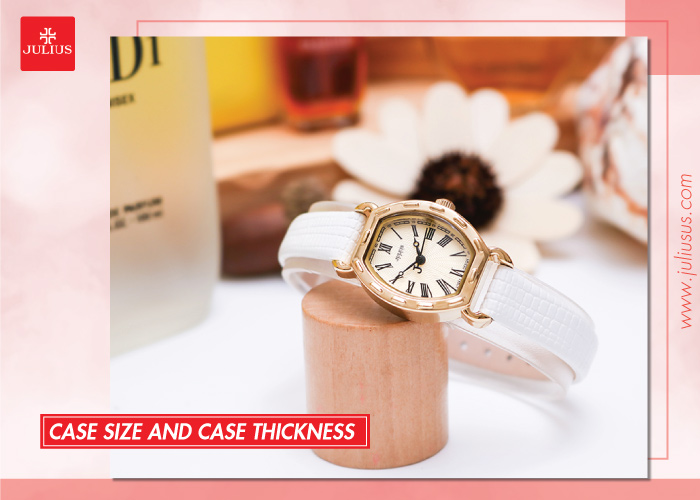 2. Case Shape
For girls with small wrists, round or oval dials are always the first choice. Those watches will help to enhance the slim look and conceal the blemishes on your wrist while enhancing the noble elegance.
3. Band Material
Some women like to wear leather watches because of their softness and lightness, others like to wear metal watches because of their personality and elegance. Usually, women with small wrists will often choose leather watch bands because leather material is soft, gentle, delicate and embraces their wrist. Furthermore, the leather strap watch is also easily adjusted to suit the wrist.
Besides, rubber bands are also a good choice for girls with small wrists. This type of band has great advantages with light weight as well as less impact by external factors, and easy to clean. If your wrist is small and you love a dynamic, healthy, youthful style, this one is worth considering.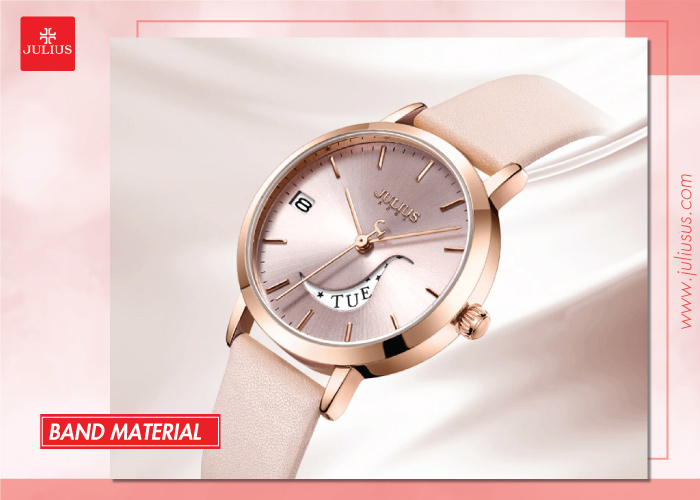 4. Details
If you want details on your watch, make sure they are just small embellishments like a small crystal or a diamond, so it doesn't add too much depth.
5. Color
If you have fair skin then you will have many different choices. No matter what color the watch is, it will be alright, even darker colors like brown, black, charcoal, …. And if you have strong brown skin, it will be charming when you choose a bright face watch with a gold-plated strap.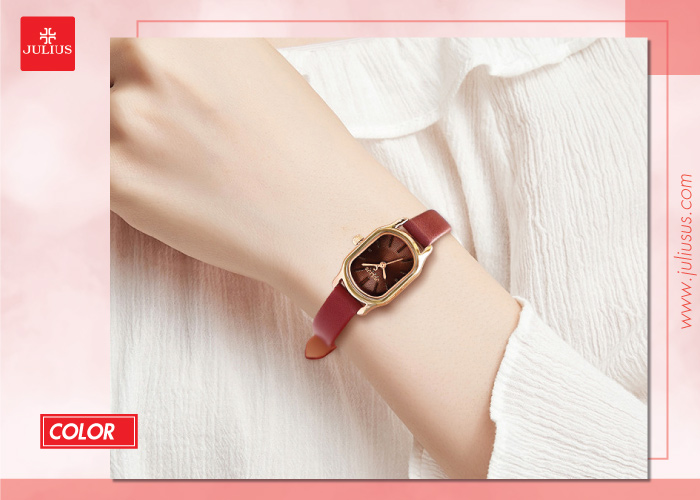 6. Women's watch for small wrist from JULIUS
Julius is an original design & Korean watch brand. Established in 2001 in Seoul, with continuous development over the past 20 years, Julius has been warmly welcomed by Asian women. With youthful style, modern technology from Japanese and designed by leading Korean fashion experts, Julius is one of the best choices for modern fashionable ladies.
Here are women's watches for small wrist from Julius you should consider:
Julius Star Korea Women's Watch JS-008A:

A circle and slim white

leather strap make this a serious, but not stuffy, everyday watch.
https://juliusus.com/product/julius-star-korean-womens-watch-js-008a-leather-strap/ 
Julius Korea Women's Watch JA-1076C:

A simple, bronze case paired with a pink leather band this watch will always be in style.
https://juliusus.com/product/julius-korean-watch-ja-1076c/ 
Julius Korea Women's Watch JA-1112D: Small and thin case, Violet

leather strap makes it more modern than girly.
https://juliusus.com/product/julius-korean-watch-ja-1112d/ 
Julius Korea Women's Watch JA-298E: Brown

leather strap,

oval case shape, the number-free face keeps the design sleek.
https://juliusus.com/product/julius-korean-watch-ja-298e-day-mesh/ 
Julius Korea Women's Watch JA-544D: oval case shape and white

leather strap make it more personal.
https://juliusus.com/product/julius-korean-watch-ja-544d/