A wristwatch can be called a magical accessory that elevates a man's style in seconds. Men's watches must ensure that they are both stylish and versatile to fit any outfit. However, you don't need to spend tons of money to get a good watch. We have come up with the best men watch under 500 dollars. Explore to find what fits your state and budget best. 
1/ Orient Men's Automatic Watch with Stainless Steel Strap, Silver, 15 (RA-AK0301S10B)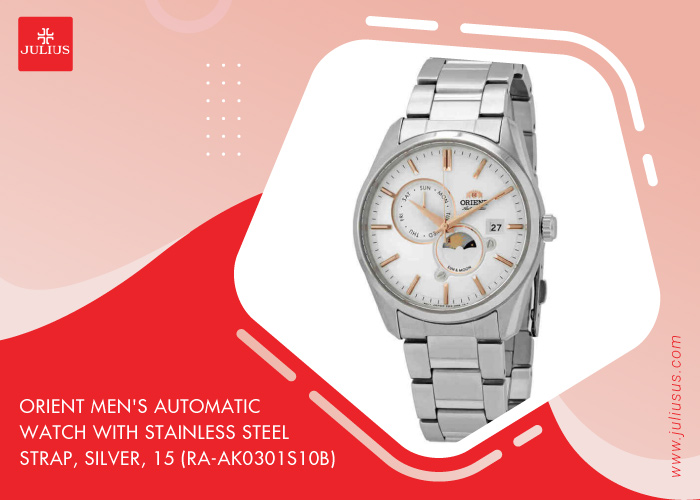 In the segment of men watch under 500 dollars, the RA-AK0301S10B has won the hearts of many customers thanks to its elegant and powerful appearance. This watch is in the Orient Sun And Moon Gen 5 line that is sought after by wristwatch enthusiasts around the world. 
The case and strap are made of stainless steel by Orient, hugging the hand. The watch face has a basic white tone that makes it very easy to wear and not picky with clothes. A special thing in its design is the combination of numbering details and eye-catching rose gold-plated hands.
In addition, you'll see the Sun and Moon function appear right on the dial at 4 o'clock. The movement of the RA-AK0301S10B is fully assembled in Japan with a hacking-stop and hand winding functions.
2/ Seiko SRPD77 Seiko 5 Sports Men's Watch Green 42.5mm Stainless Steel
Seiko 5 Sports SRPD77K1S possesses a modern and sporty appearance, making every guy fall in love at first sight. Belonging to the dive watch product line, the SRPD77K1S is equipped with water resistance up to 10ATM.
A breaking point in the design is the crown at the 4 o'clock position. Its dial background is dark blue with an embossed texture and large luminous details. The bezel has unidirectional rotation and the same color as the dial, which creates an extremely striking appearance for the Seiko SRPD77.
3/ Tissot Men's Tradition 5.5 Brown Leather Strap Watch T0634091601800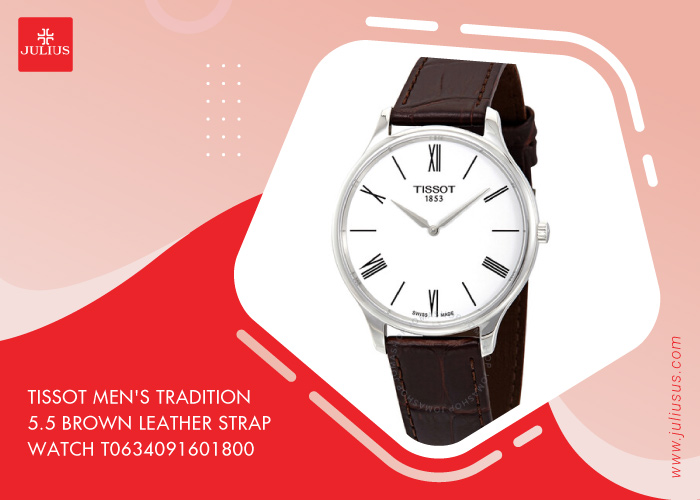 Next, we would like to recommend a Swiss watch under 500 dollars that is well worth the investment. The attraction of this product is the simple but extremely luxurious design. It can easily match with all different styles from work to out.
Besides, its quality is also a great thing for men. The leather strap and scratch-resistant sapphire crystal give you the best experience. Wearing this watch not only helps you keep track of the time accurately but also elevates your style.
4/ Casio Men's Edifice Connected Stainless Steel Quartz Sport Watch with Stainless-Steel Strap, Silver, 14 (EQB-800DB-1ACF)
If you are looking for a men watch under 500 dollars then Casio EQB-800DB-1ACF is an option for you. This watch has an impressive appearance with a diameter of 49.2mm and a strap width of 14 millimeters. This is the right size for all men's wrists. 
But do you know why it is loved by so many people? That's because it is equipped with a lot of great features such as word time for 29 cities, phone finder, and smartphone link functions. These features all make your life more convenient and modern.
5/ Citizen Eco-Drive Corso Quartz Men's Watch, Stainless Steel with Leather strap, Classic, Black ( AW1236-03A)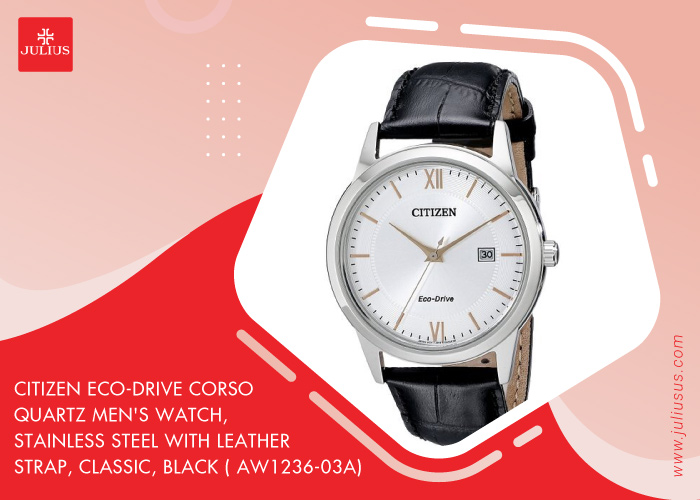 If the mechanical watch shows the level of connoisseurship, the light energy watch will show convenience because of the simple operation mechanism. You just need to absorb the Citizen AW1236-03A watch with a light source. 
In addition to modern Eco-drive technology, this watch also has an extremely elegant and classic look. The silver stainless steel dial and index hour markers are marked with roman numerals that make a difference. Plus, the Japanese quartz movement with 30 m water resistance provides durability and protects the watch from water damage.
6/ Olym Pianus OP990-083AMSK-T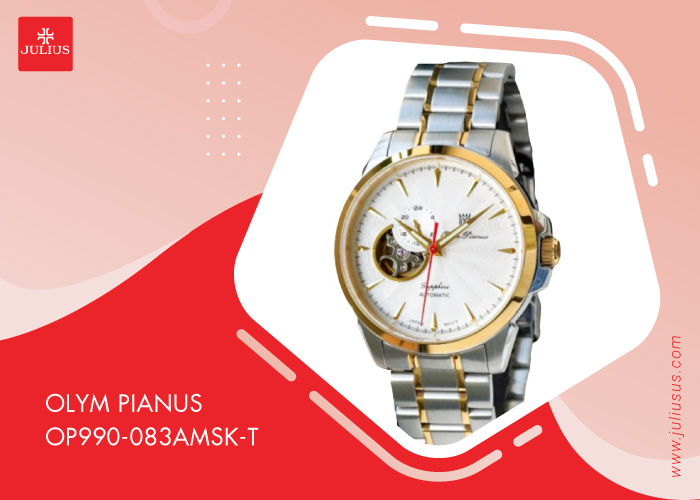 Olym Pianus watches are the perfect combination of fashion and personality. With a dial size of 40mm, this watch is quite easy to wear but is most beautiful for those with a hand size of about 16cm or more. 
The unique textures on the face are impressively stylized that help users to observe a part of the operation of the machine inside. The strap is made of stainless steel, the safety clasp type is often used for expensive watches that ensure the watch is firmly on your wrist.
7/ Timex 38 mm Q Timex Reissue Stainless Steel Case Blue Dial Stainless Steel Bracelet
Under the Timex brand, the Q Timex is a watch for men inspired by a diving machine. It has a completely different design compared to other watches. The striking watch face with red bezels ensures you've never seen it anywhere.
Besides, the quartz movement provides good performance and durability. During the use of this watch, you can easily change the battery without complicated tools. This is a retro watch that looks and works better than ever.
8/ Seiko SRPB43 Mens PRESAGE Automatic Watch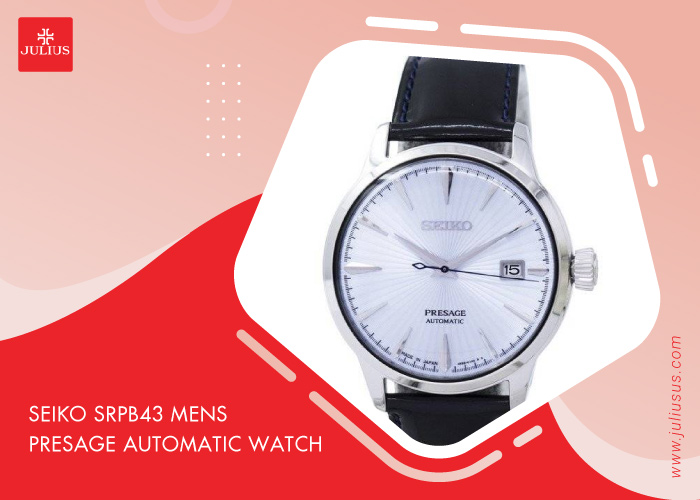 Seiko SRPB43 Mens PRESAGE is a men watch under 500 dollars that won't let you down anyway. This is a watch with Tri Matic technology integrated into all movements. Tri Matic is a combination of 3 advanced operating mechanisms invented by Seiko: Dia Shock, Magic Level, and Spon. 
In addition, Seiko Presage watches have many other functions such as Chronograph, power indicators. Designed uniquely with classy but equally modern and youthful. If you are in the market to find a good watch that falls under 500 dollars, Seiko SRPB43 Men's PRESAGE is one of your best options.
9/ Orient Star Power Reserve Sapphire Glass Steel Bracelet Blue Dial Dress Watch (RE-AU0005L)
The last watch on our list of best men watch under 500 dollars is Orient RE-AU0005L. This is a watch designed with meticulous attention to detail. Its dial features 22 jewels made from Sapphire crystal with an anti-reflective coating. 
The function of hand winding – manual winding and Hacking – stopping the second hand when adjusting the time is also integrated in the Orient Star. Surely you will be extremely comfortable when using mechanical watches with 2 more modern functions that not many other watch brands can do.
For men, watches are an indispensable item. In fact, 9 out of 10 people wear watches when going out. With our guide to the best men watch under 500 above, we hope that you can make the right decision without breaking your bank. Thank you for visiting and stay tuned to our page as we will be back with more useful topics.
READ MORE: Top 7 Of The Latest Men's Watch Trends 2021