To be able to track your sports training effectively and accurately, it is necessary to buy a triathlon watch. There are many wonderfully designed triathlon watches with many unique features on the market today. In this article, let's take a look at some notes to keep in mind before deciding to buy a triathlon watch, and find out the best women's triathlon watch you can invest your money in.
1. What features do you need to pay attention to when buying a women's triathlon watch?
1.1 Multisport function
Why should you care about multisport function and how important is it during your practice? In fact, A professional watch that supports triathlons is always a multisport feature. It simplifies switching from sport to sport with the push of a button. For example, you can switch from swimming to cycling then to running, which makes the transition faster.
If unfortunately you choose watches that do not have a multisport function, then you will have to take time to switch manually. Plus, they don't record all the data after each activity or after every race when you do triathlons.
1.2 Design
During practice, you need to wear the watch on your wrist continuously for many hours. So the watch must ensure comfort and flexibility. So how to choose a good women's triathlon watch? Take a look at the case and strap material. We recommend choosing soft silicone material to bring comfort to your skin and avoid allergies when wearing it.
1.3 Battery life
A triathlon race can last up to several hours, sometimes all day. So you need to find a watch that offers an ideal battery life to avoid losing data. The best triathlon watch should offer at least 6-8 hours in GPS mode or more to ensure data is successfully kept.
1.4 Water resistance
Most smartwatches that measure exercise are water and sweat resistant. When it comes to triathlon watches, this requirement must be even higher. Usually, it is equipped with a water resistance level of 50 m or more up to 100m.
2. The best women's triathlon watch to track your swims, runs and cycles you can shop now
2.1 Coros APEX Premium Multisport GPS Watch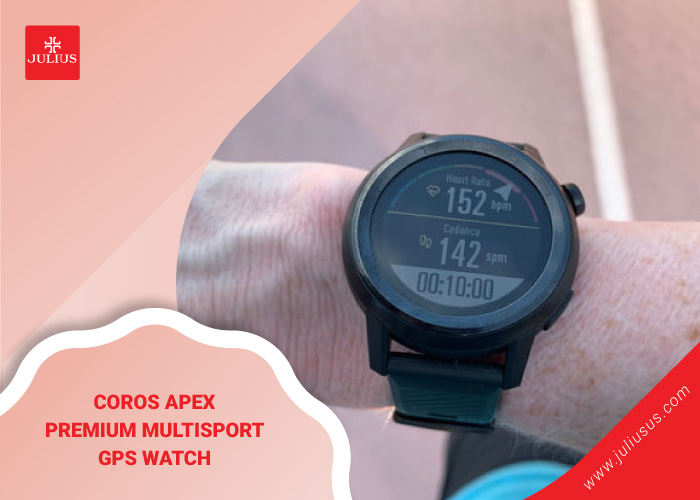 Whether you're training or simply having a casual day, you're sure to carry Coros APEX Premium Multisport GPS Watch in style thanks to its sleek and modern look. Its watch face is made of sapphire glass, which is extremely scratch resistant. Also, it has a cool silver tone digital knob for easy operation.
The watch's water resistance is up to 100 meters, which is an ideal number for swimming. Watch battery life can last up to 24 days without charging under normal usage conditions. In UltraMax GPS mode it can last up to 80 hours, and in Full GPS mode it can last up to 25 hours.
This amazing watch also sends nutrition alerts to remind you to stay hydrated while running. It also shows data about your recovery to help you practice harder and smarter.
Specifications:
Brand: Coros

Color: White

Dimensions LengthxWidthxHeight: 1.77 x 1.77 x 0.57 inches 

Battery life: 25 hours 

ANT+ connection technology 

Satellite map type
2.2 Garmin 010-01733-00 Fenix 5X Sapphire – Slate Gray with Black Band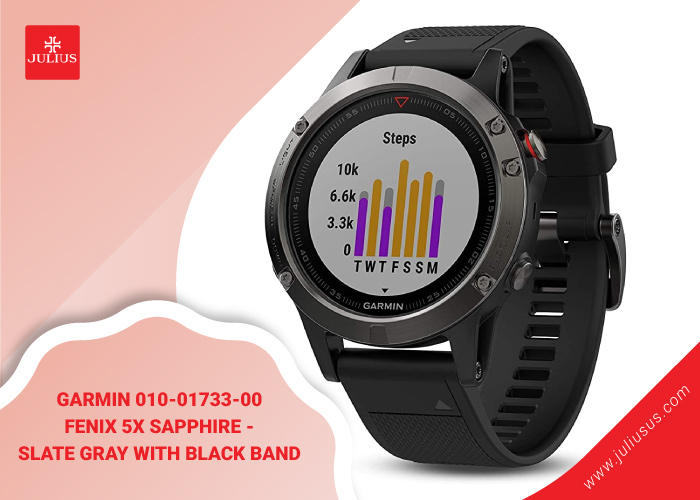 The next women's triathlon watch we want to recommend is the Garmin 010-01733-00 Fenix 5X. This amazing smartwatch features a black-tone stainless steel bezel and an easily adjustable black strap.
It has anti-reflective glass so that you can easily view the screen even in direct sunlight. Fenix 5X offers you smart notifications about your health and your workout. Plus, It can automatically upload your workout data to the cloud through their app.
This watch is equipped with outdoor sensors such as GPS and GLONASS. It also comes with a barometric altimeter and Elevates wrist heart rate technology. For workout-specific features, this watch will let you know exactly your progress and the effectiveness of your workouts.
Specifications:
Brand: Garmin

Color: Black

Dimensions LengthxWidthxHeight: 5.1 x 5.1 x 1.8 centimeter

Weight silicone band: 98 grams

Metal band: 196 grams 

Band Width: 51 Millimeters
2.3 Garmin Forerunner 735 XT Turquoise-Blue Pack Run GPS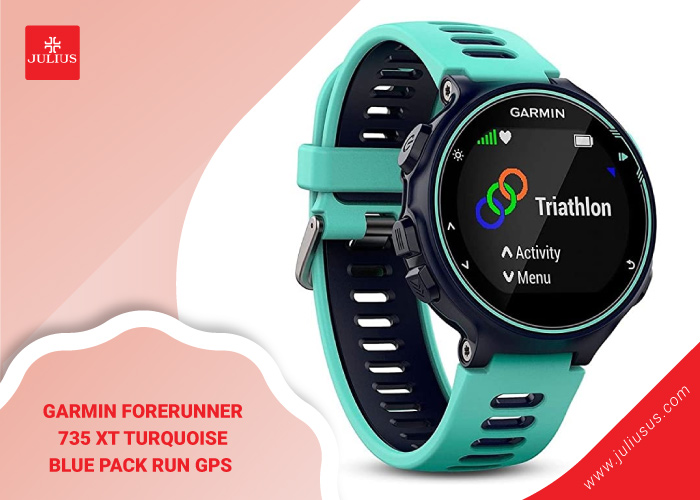 Garmin Forerunner 735 XT is a triathlon watch that is always at the top of the most sought-after watches. This watch includes a triathlon-specific feature along with a multiport automatic. That means you can conveniently switch each sport (swimming, cycling, and running) with one press of the buttons, instead of having to manually stop and start the other.
The Garmin 735XT carries a 5 ATM water resistance rating. Its GPS is quite accurate and works well even in areas with tall buildings and trees. The watch band is made of silicone that brings a comfortable feeling and lightweight on the hand. 
Designed in a minimalist but equally unique and sporty style for women. The watch face displays easy-to-read parameters. In addition, It has a built-in backlight for flexible monitoring at night.
Specifications:
Brand: Garmin

Color: Turquoise

Dimensions LengthxWidthxHeight: 0.47 x 1.75 x 1.75 inches

Screen Size: 1.23 Inches

Weight: 41 grams

Metal band: 45 grams 

Glass material: chemically tempered glass
2.4 POLAR VANTAGE M –Advanced Running & Multisport Watch with GPS and Wrist-based Heart Rate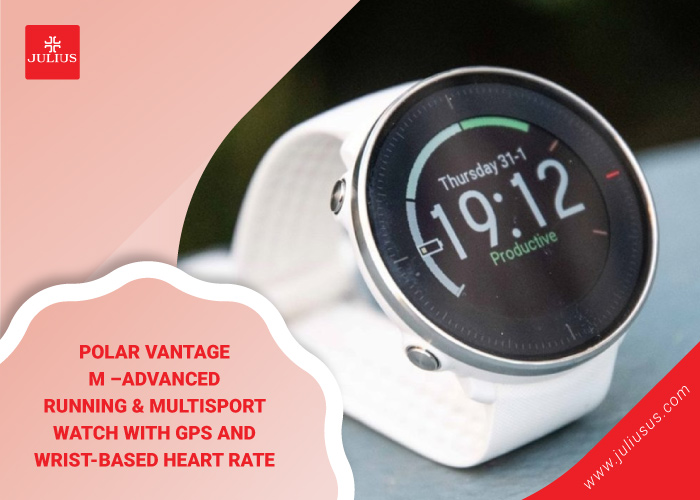 Training in style with the Polar Vantage M. This watch features an eye-catching black look and incredible 30 hours of battery life. 
This triathlon watch also functions as a great fitness tracker. It shows you a comprehensive view of your performance. It has a highly accurate heart rate monitor thanks to the latest combination of optical sensors and bioimpedance electrode.
POLAR VANTAGE M is a perfect choice for women who are looking for a good triathlon watch. It meets all the necessary features and offers even more. Plus, it has a beautiful design that can compliment the look of ladies.
Specifications:
Brand: POLAR

Color: Black

Dimensions LengthxWidthxHeight: 4.33 x 3.31 x 10.35 inches

Weight: 98 grams

Metal band: 45 grams 

Material: Stainless Steel
Now you know which features to consider when buying a triathlon watch and the best women's triathlon watch available on the real watch market. Hopefully, this article is useful to you. We are building interesting and useful topics on our site, so stay tuned to not miss out on the next appealing topics. 
READ MORE:

(Helpful Customer Review) The Best Women's Pedometer Watch