If you are looking for an on-budget women's watch and you find it hard to think about which brand to choose. Then, the best choice for you is buying from brands with affordable prices but good quality and trendy designs. In the real watch market today, there are ocean options that make it a little overwhelming for you to decide. Don't you worry, check out the best women's watch brands under 100 dollars below, you will find wonderful options.  
1. Best women's watch brands under 100 dollars: Julius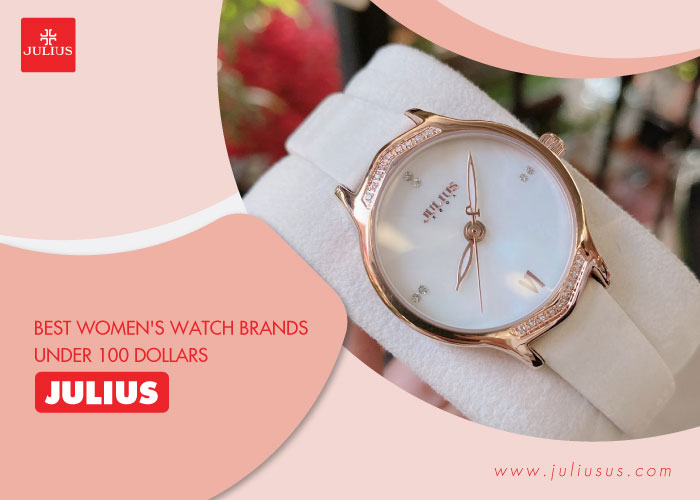 Julius watch brand from Korea, established in 2001. With beautiful design and good quality, Julius has spread all over the world and become the top brand worth buying in the mid-range segment.
Julius is known for its luxurious, ladylike models, offering a line of women's watches in a variety of models and colors. Besides, the face of the brand's representative Kim Yoo Jung (a famous Korean actor) has made the Julius brand more welcome than ever.
Take a look at Julius watches' key features that built its reputation:
It is manufactured by Japanese technology, the movement is 100% imported from Japan. Designed by top Korean fashion experts, and assembled in China according to international standards.

The watch straps are crafted from high-quality materials with stainless steel or high-quality leather straps.

Its case material is made from Rose gold ion-plated alloy, using advanced vacuum IP plating technology that can protect the watch from minor bumps and scratches in daily activities. Also, it helps Julius watch become more shiny and luxurious. 

The Japanese Quartz Miyota (manufactured by Citizen) ensures the durability and accuracy of Julius watches.

Water resistance: Up to 3ATM, you can wear it while walking in the rain, washing your hands, washing your face.
Whether you need a watch to go to the office or to suit your weekend wardrobe, Julius watch can compliment all your outfits and help you track time effectively. They do it all for under 100 dollars.  
Price: from $50
2. Best women's watch brands under 100 dollars: Casio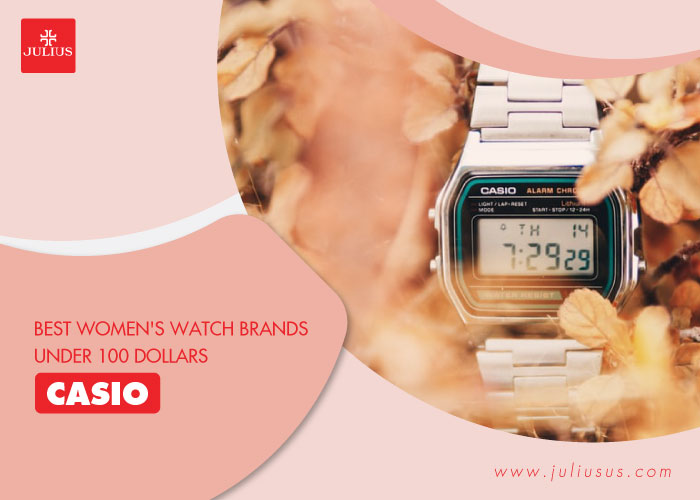 One of the most famous and best-selling watch brands today is the Casio watch brand. Its price is quite cheap but it has extremely high quality and durability over time. 
Besides the low price, the company also brings quality according to Japanese standards, using quality Japanese machines. All Casio products are always appreciated for their durability and variety of features. That is why Casio is successful in every watch market worldwide.
Price: from $16
3. Best women's watch brands under 100 dollars: Citizen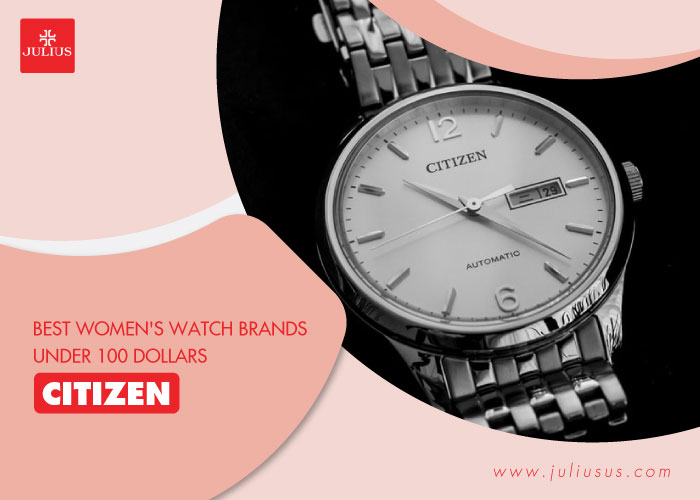 As a low-cost Japanese women's watch brand, Citizen genuine women's watches are appreciated for both quality and functionality. All Citizen products are suitable for female customers because they are easy to use and repair. Citizen watches are famous in all three types of movement: Quartz, Automatic, and especially Eco-Drive (light energy watch).
Besides, the fashionable, modern and elegant styles have helped Citizen become the most loved brand in the world. So, investing in a Citizen watch is always a good choice that you will never regret.
Price: from $70
4. Best women's watch brands under 100 dollars: Wenger

Wenger is a watch brand from Switzerland. The genuine Wenger women's watch collections are famous for their high quality, luxurious, and elegant designs. Not only has a beautiful appearance, but Wenger watches are also equipped with special features to optimize work and life such as date calendar, month calendar, and more.
The sapphire crystal glass is the key feature that can protect against scratches and bumps. Plus, 30m water resistance is enough to avoid water damage from rain or washing. An important highlight of Wenger women's watches is the Swiss Made certification – Switzerland's most rigorous standard to ensure its quality.
Price: from $44
5. Best women's watch brands under 100 dollars: Orient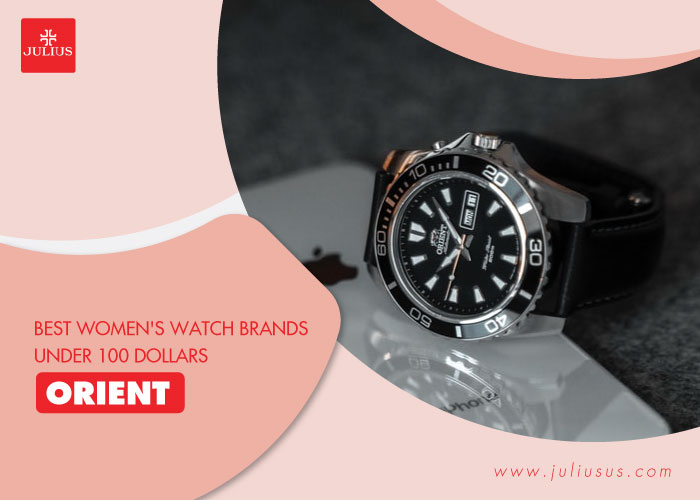 Orient is also an affordable women's watch brand from Japan, 100% made in Japan. Orient women's watch designs are excellent in design, function, and quality.
Orient women's watches are all quartz movements with the advantages of stable running, easy to repair, easy to use, and adjust. If your budget is under 100 dollars then Orient can offer you a lot of interesting options to choose from. 
Price: from $70
CLICK HERE TO READ: Our Pick: The Best Women's Watch Brands Under $200 In 2021
6. Best women's watch brands under 100 dollars: Royal Crown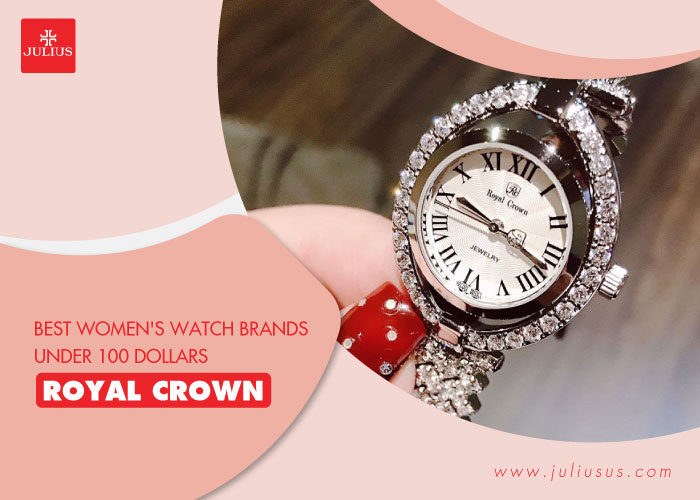 Royal Crown is an Italian watch brand. It appears and is loved by many women in the world by its unique designs. Royal Crown watches can make people unforgettable with their luxurious and charming stone-encrusted appearance. Wearing these watches from Royal Crown surely gives you a different and impressive look.
As a women's watch brand under 100, Royal Crown is a good option for those who don't like boredom. However, it will be a difficult task for you to match these watches with your daily outfits. 
Price: from $59
7. Best women's watch brands under 100 dollars: Cadino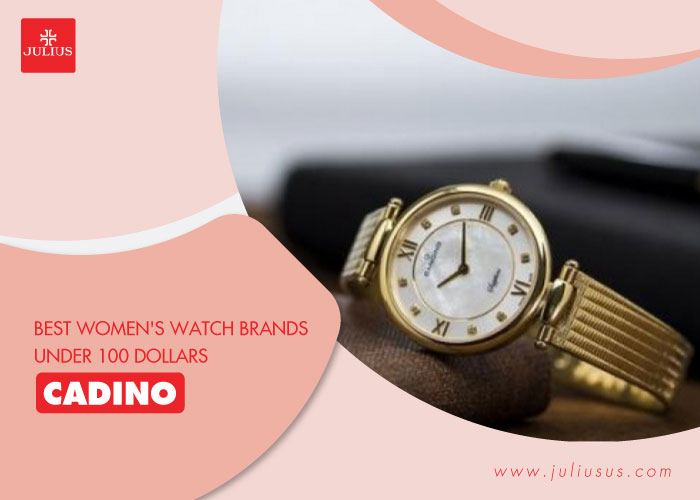 Cadino is known as one of the famous women's watch brands from Switzerland. Founded by Adolf Flury-Hug in 1945, Candino quickly asserted its position and became a favorite watch brand for women. Candino watches are all elegant and luxurious, created by the hands of leading professionals.
At the mid-range segment, the price of Candino women's watches fluctuates around $100 or higher. You will surely be conquered by their outstanding features in both design and quality.
Price: from $100
8. Best women's watch brands under 100 dollars: Komono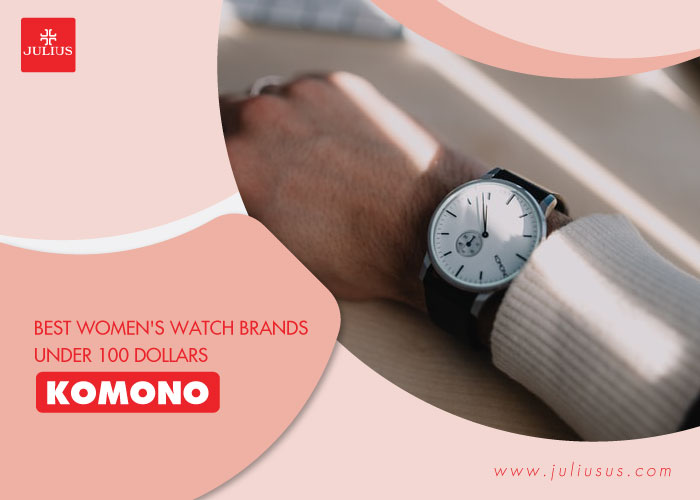 Komono is an emerging watch brand from Belgium. Komono pursues a classic style but is extremely elegant. In addition, Komono women's watches are always crafted from high-quality materials and components such as high-grade 316L Stainless Steel, leather straps imported from Italy with many eye-catching colors.
The operation of Komono watches thanks to movements from Japan ensures the highest accuracy. If you want to own a watch with a Nordic fashion style, the Komono brand watch is a good choice for you. 
Price: from $40
We have arranged the best women's watch brands under 100 dollars that you can refer to choose a worthy watch for you or your loved ones. We guarantee you will never be disappointed with the quality and design of watches from these brands.
CLICK HERE TO READ: [Review] Top 9 Of The Best Women's Watch Under 50$ You Can Buy In 2021