Someone said that you have to pay a lot of money for a great watch. But we are going to tell you that it is possible to find a well-designed, good-quality watch at a surprisingly reasonable price. Here are the top 10 of the best women's watch under 50$ you can shop now on the real watch market. We have considered many factors to ensure all of the watches on our list below can meet all your needs on budget. Now scroll down to explore these amazing watches.
1. SHENGKE SK K0008L Fashion Women's Watches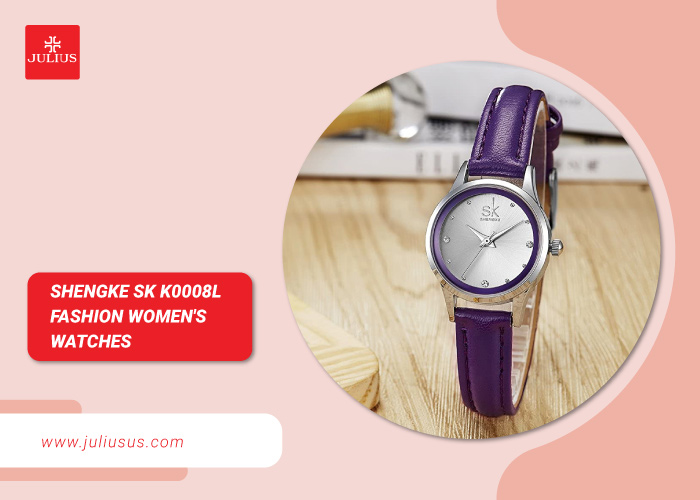 The watch has a delicate round dial design with hour markers replaced by diamonds. The small leather strap is only 10 mm wide, adding femininity to the wearer. In addition, leather material also brings a pleasant feeling to your skin. 
Shengke Korea K0008L has highly appreciated for its accurate time display thanks to the use of the Quartz movement. If you are looking for a super reasonable price watch for regular use then K0008L is for you. 
Price: $27.99
2. Casio Women's LTP-V004L-7A Watch
As you know, Casio is a brand that has affirmed its position as a high quality and durable watch brand. Coming to a women's watch under $50, Casio Women's LTP-V004L-7A is a good choice for you to choose from.
The soft leather strap can keep the wearer comfortable even for long time. Also, leather material always brings youthfulness and dynamism. Designed in a classy look with black and white color, this watch is suitable for women who appreciate minimalism and sophistication. 
Price: $26.18
3. Casio Ladies Mid-Size Gold Tone Digital Retro Watch LA-680WGA-9DF

Another watch for women from the Casio brand under $50 that you can not miss out on. If you are a big fan of retro style then this watch can make you fall in love at the first sight. Also, the quality of the watch will surprise you.
Japanese movement is the key element that makes it durable and affordable. The case is made from gold-plated stainless steel, which does not fade over time. Impact resistant offers you many functions such as automatic calendar, alarm, sports time, countdown time, etc.
Price: $49.73
4. Nine West Women's Strap Watch
Nine West is one of the largest fashion product supply systems in the US, established in 1973. This watch brand is very popular for its trendy design and affordable price that everyone can buy without breaking the budget.
Nine West Women's Strap Watch impressed all of the users with its unique look. It's both simple and youthful. Its dial is made of a mineral crystal lens. The matte black dial is designed with eye-catching gold-tone and hour markers. However, it is not a water resistance watch so you have to protect it carefully from water contact activities. 
Price: $29.79
5. Anne Klein Women's Genuine Diamond Dial Bangle Watch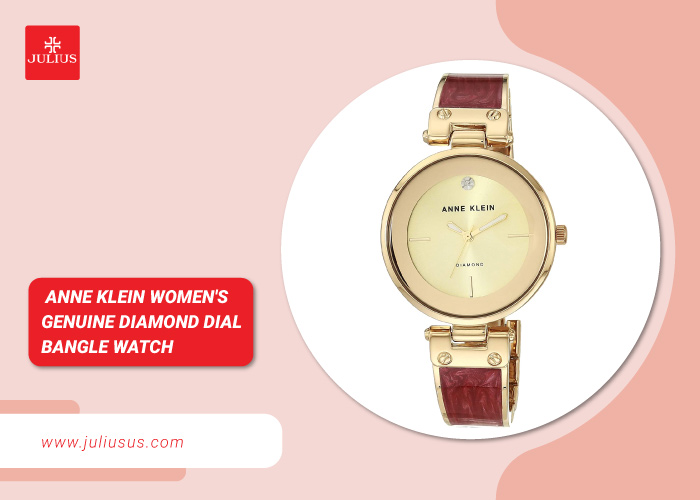 We are sure that every girl must fall in love with this Anne Klein Women's watch. It has a very nice look with a gold tone and beige color. Rose-marble enameled alloy strap and a jeweled clasp that can truly make you stand out of the crowd when you have it on. 
In addition, it is water resistant to a depth of 30m (100ft): can be submerged in water for a short time, but not suitable for swimming or diving. With an extremely reasonable price (under $50) and luxury design, we couldn't ask for more from this watch. 
Price: $47.89
TIME OF YOUR LIFE:Best Women's Watch Brands Under 100 dollars– Today luxury watches are no longer just for you.
6. Timex Women's Expedition Metal Field Mini Watch
If you are looking for a vintage watch that can go well with all of your outfits, then Timex Women's Expedition Metal Field Mini Watch is a perfect one for you. Take a look at its design and color, you surely won't be able to take your eyes off it. 
Its strap is adjustable black nylon with brown genuine leather trim. The dials and hands are luminous so you can see the time accurately in the dark. Besides, water resistance to a depth of 50m (165 ft) makes it possible for you to swim for short time and walk in the rain.
Price: $36.48
7. WRISTOLOGY Olivia Women's Watch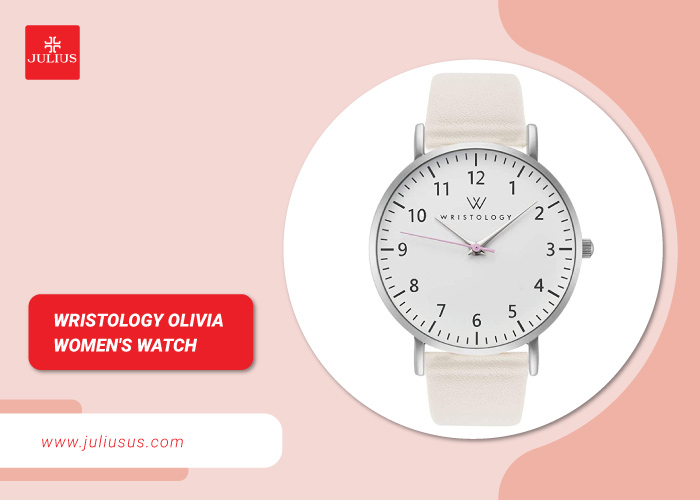 This is a very convenient watch for daily life activities with a large dial and accurate time display. Olivia has a simple and thin rose gold color case. Its gray leather strap can be adjusted easily without any complicated tools. 
Although it has a large size, when you put it on your wrist, it is slightly light and smooth making it a comfortable feeling for all day use. WRISTOLOGY Olivia Women's Watch will be a cute gift for friends and sisters on holidays and anniversaries. 
Price: $29.99
8. Relic by Fossil Women's Miriam Quartz Watch with Leather Strap ZR34615
If you are a girl who loves simplicity but different and unique. This Relic by Fossil Women's Miriam Quartz Watch is an option for you. A leather strap is always the best choice to help you look younger and more active. 
The feature that sets it apart from others is the gold-tone dial combined with the brown leather strap. Wearing this watch on your hand, you will no longer feel bored, but instead, there will be a new inspiration in your style.
Price: $48.00
9. XOXO Women's XO9028 Watch
 
XOXO Women's XO9028 Watch is an extremely personality watch for active women. It has a special strap design with seven interchangeable silicone bands. The round face watch features a rhinestone-set bezel that makes us think of an expensive watch. 
At a reasonable price range, this watch gives you a good experience with its precise time display and impressive design. You can freely pick one for yourself without breaking the bank. 
Price: $28.38
Watches are an indispensable accessory in modern life. For women, a good watch not only helps you to manage your time well but also is a piece of jewelry that makes a statement about your style. However, you don't need to spend a thousand dollars on a watch with our best women's watch under 50$ list above. If it is hard for you to decide which watch to buy, check out one of the watches we have reviewed. We guarantee that these amazing watches will never let you down.
>>> SHOP NOW: Top Julius Watches under 50$ – Best Affordable Watches for Women