Over the past few decades, timepieces have evolved a lot, it is not simply a time-teller or a date reminder but also a beautiful accessory. Like a bag, a dress or sneakers, it takes time before making a decision, sometimes it is super intimidating. Moreover, with budget-limited, making the right choice is even tougher when there are many factors to consider and compare. That's why we have arranged 9 of the best women's watch brands under $200 for you. We have considered carefully their function, quality, specification and ensure it suits yours under $200 budget. Now, take a closer look at our list below.  
1. First, find out 5 key elements for choosing a women's watch brand you need to know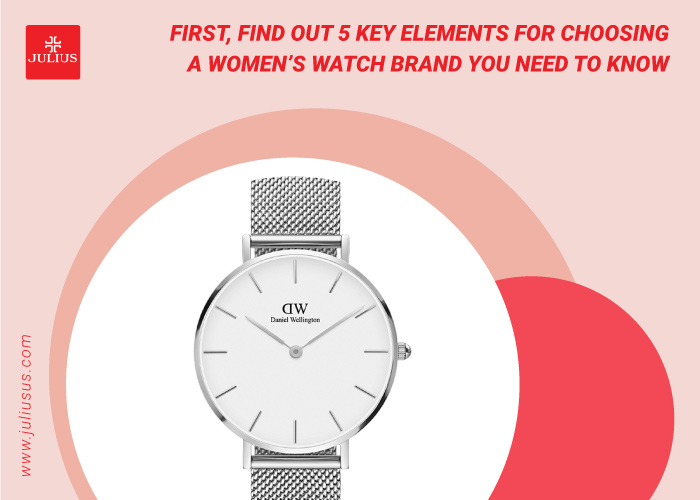 There is a rule when choosing to buy women's watches to keep in mind that " a famous watch brand is not the deciding factor for all". Women's watches are usually not too complicated and majestic, you should look towards sophisticated, elegant and equally stylish. Besides, pay attention to the color of the watch to choose one that can enhance your skin tone. 
The size of glass and band
The women's watch band is designed based on the average woman's wrist size, which is between 12 and 17cm and the face of the watch has a diameter of 22 – 34 mm. For those with small wrists (12-14cm), you should choose a glass with a diameter of 22-28mm. With larger wrist sizes, the glass from 28 – 34 mm is the right choice.
In terms of a good watch band for women, the stainless metal material creates a personality that is loved by many women. For daily use watches, a leather or rubber strap that can not be affected by perfume and does not injure your skin will be a suitable choice. 
To avoid water damage in your daily activities that contact with water like washing your hands, going under the rain, swimming, etc. You should notice the water resistance to ensure it has 3 ATM, 5ATM, 10ATM, or higher depending on your needs. 
For women, A Quartz movement watch is always a good choice, because it provides high quality, affordable price, and is also lightweight that suits women.
2. Our guide to the best women's watch brands under $200 available on the market now
2.1 Julius watch brand 
Julius watch is a brand that is so familiar to those who love Korean fashion. Julius has quality production lines in Korea, imported movement from Japan, and assembled in China. That makes it a great watch that comes with a reasonable price. They do it all for under $200. 
The features that make the Julius watch brand stand out are not only trendy design but also meet quality standards such as Japanese Quartz movement, water and impact resistance, the most advanced vacuum plating technology, and stainless steel band.
If you are a big fan or Korean watches, then you can not afford to miss out on these fabulous Julius watches. 
Our pick: Julius Star Korea Women's Watch JS-016B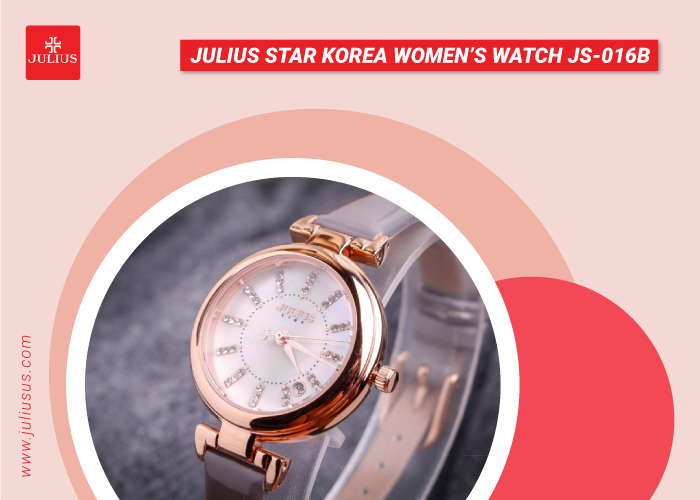 From the Julius Star collection, I would say that the Julius women's watch JS-016B is the best choice under $200 for women. It perfectly meets all your needs: luxurious design, high quality Japanese Quartz movement, durable over time and affordability. 
Plus, by buying the Julius Star Korea Women's Watch JS-016B you will enjoy up to a 1-year warranty and 3 years aftersales. That is a good deal for women who are looking for a watch to track time accurately but equally jewelry-like and super budget-friendly. 
Price: $129
2.2 Tissot watch brand
The Tissot watch brand was founded in 1853, in Le Locle, Switzerland. After much effort, this watch brand has achieved a lot of success. Tissot has also become one of the brands that are popular and loved by many women around the world. 
The watches from Tissot have always been exquisitely crafted from high quality materials such as 316L stainless steel, Sapphire glass makes it durable over time.
Our pick: Tissot Tissot Everytime Small 
A watch that fits anywhere, anytime for women. Simple white dial with luxurious crocodile-embossed black cowhide strap. This is one of the most elegant options for women at the price range of under $200.
Price: $143
2.3 Daniel Wellington watch brand
In terms of women's watch brands under $200, Daniel Wellington watches deserve a top brand on the list because they have a ton of unique features for women. Its simple dial is a unique feature that makes it different compared to other watch brands. 
The design of Daniel Wellington is also equipped with a stable and meticulous Quartz movement. In particular, you can also change different styles of straps to create a new and different look for your own watch.
Our pick: Daniel Wellington Petite Sterling Watch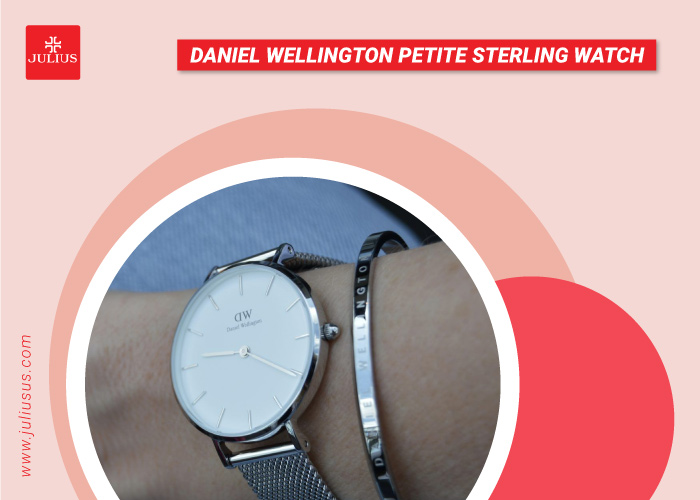 Looking at the Daniel Wellington Petite Ashfield Watch, many women have been really captivated by its gorgeous and luxurious appearance.
The classy of the Daniel Wellington design and the perfect color combination of the black dial and PVD silver-plated stainless steel mesh band created a watch that can make you stand out of the crowd.
Price: $169 
2.4 Skagen watch brand
As a fashion watch brand from Denmark, Skagen always pleases women with its signature watch models. With the poetic natural landscape and the artist's souls, Skagen creates endless inspiration and produces watches that capture the hearts of many women at the first sight.
Skagen women's watch brand designed in a minimalist, elegant style typical of native Danish girls. Plus, you will get a lifetime warranty when buying a Skagen women's watch.
Our pick: Skagen Women's Ryle Quartz Dress Watch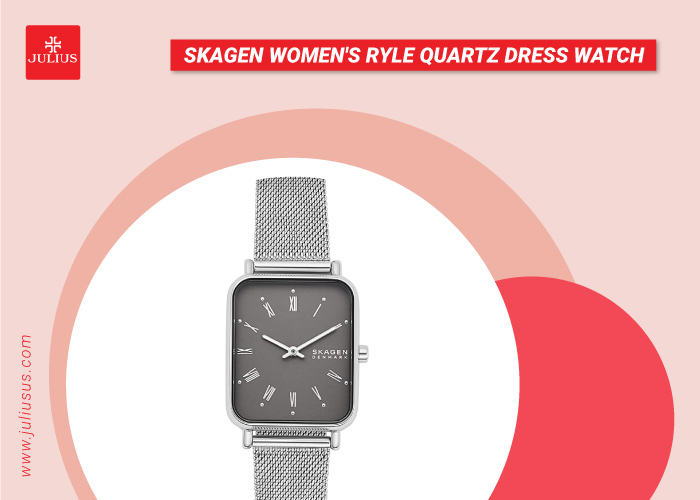 This watch has a vintage design with a personality square watch face. The brown leather strap is always a good choice for women, it pleases your skin and can work well with almost all your outfits. Besides, it has water resistance up to 30m that helps you avoid water damage in your daily activities.  
Price: $110
2.5 Orient watch brand
Orient is a Japanese watch brand, officially founded in the 1950s by Shogoro Yoshida. Orient watches often use leather and metal straps that are meticulously crafted to enhance your elegance. 
Combined with mineral glass and sapphire glass to create the product's certainty as well as a durable automatic mechanical movement. Currently, Orient targets businessmen, officers and people with average incomes. So, this is the watch brand you can consider to find an affordable watch under $200.
Our pick: Orient Women's Automatic Watch with Stainless Steel Strap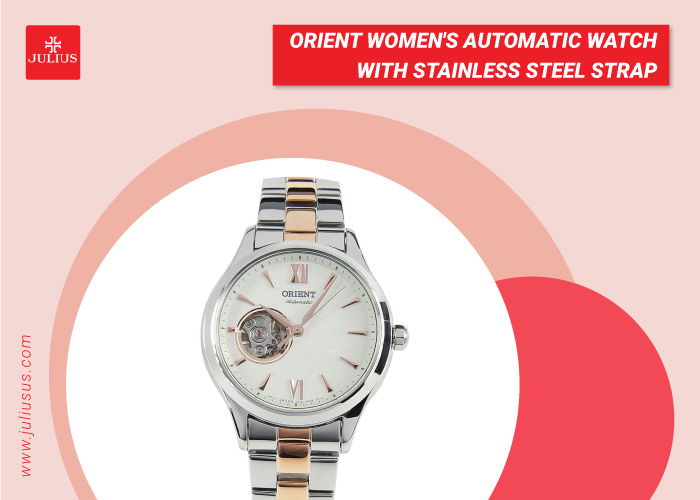 Orient Women's Automatic Watch has a high quality quartz watch. Its case is made from 316L steel that meets strict Japanese standards. This watch also has good rust resistance, shiny and easy to clean the strap and watch face. 
Price: $142
Now you know the best women's watch brands under $200 to make your decision easier. All these watches we have provided are beautiful in design with high quality, especially they set you back less than $200. Everyone has different styles and preferences, so we hope you can choose the watch that suits you best with our list above.
READ MORE:

8 Best Women's Watch Brands Under 100 dollars ideas