There are a sea of options when it comes to watches for women. To make it easier and less time-consuming, we've rounded up the 7 best women's watch $300 – $400 for you to choose from. These are all watches from reputable brands and receive huge purchases from watch enthusiasts around the world. Now, let's jump into our list to see how amazing they are.  
1. Orient Classic Mechanical Bambino 2 Tone Rose Gold Dress Watch RA-AC0004S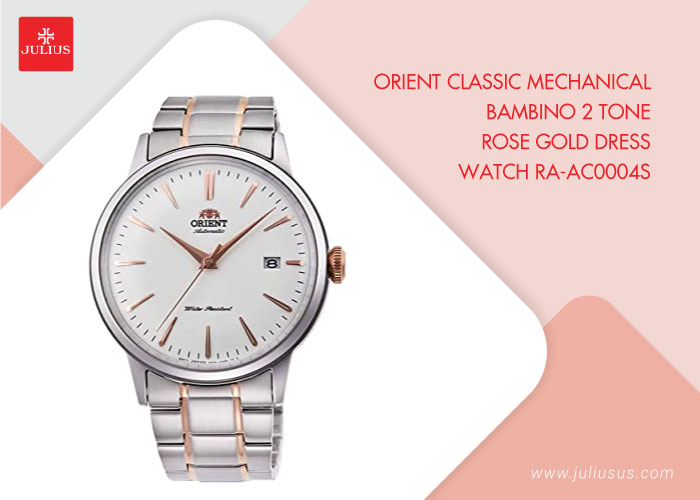 Belonging to the Orient product line, the RA-AC0004S model is one of the best-selling women's watches of the watch brand from Japan – a leading country in the electronics
With an impressive appearance, the RA-AC0004S watch has an irresistible attraction for women. It has a white-domed dial with a diameter of 28mm that is quite wearable with most women's wrists.
The gold-plated hands are synchronized with the stone-encrusted numerals and demi metal bands that create a luxurious and high-class design.
SSZ4502W0 is equipped with Cal.F6724 automatic movement and scratch-resistant sapphire glass. In addition, this model also has 316L stainless steel both in terms of case and band. Also, Its water resistance is up to 50m that can be worn in the rain or washing your hands and face.
Price: $300.00
2. Calvin Klein Drift Quartz Silver Dial Ladies Watch K6S2N116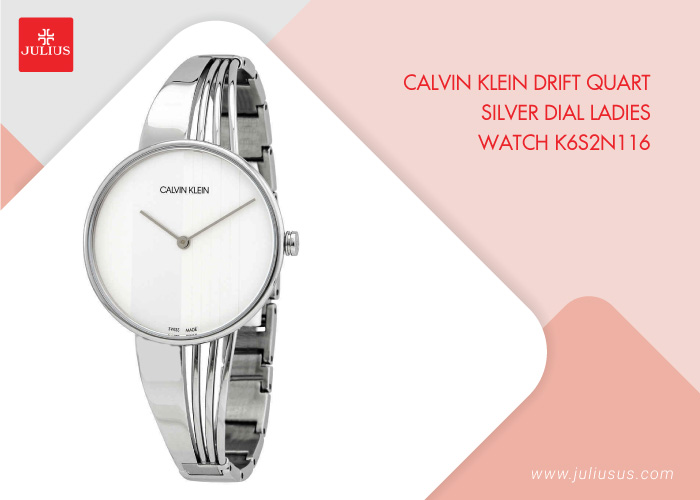 As a member of the Swatch Group, Calvin Klein watches possess Swiss standards that many other brands have to aspire to. The Calvin Klein K6S2N116 is part of the collection called Drift with design inspiration from the wheel tracks. 
The dial of the watch has a seamless connection with the outer case band. An interesting thing is that the lines on the strap look like wheel tracks as it drifts on the road. The diameter of the dial is 34mm and the thickness is 6mm. In addition, its 3ATM water resistance can protect the watch from sudden rains. Plus, the Swiss standard movement will always help the watch to operate accurately and durable.
With an impressive and unique design, the manufacturer's target audience is young girls with strong personalities and especially fond of adventure sports. Surely when using this wonderful watch, you will always feel confident and shine everywhere.
Price: $310.00
3. Seiko Women's SUT068 Dress Solar Classic Diamond-Accented Two-Tone Stainless Steel Watch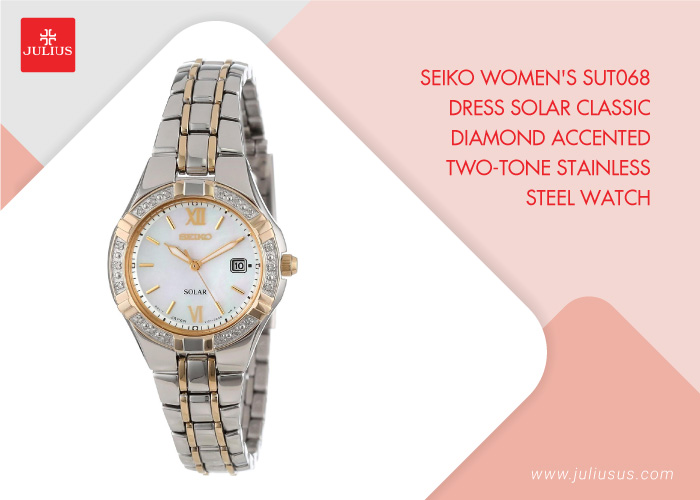 As we know, the innovative way of the Seiko watch brand always makes the world admire. Seiko Classic watches have a gentle and sophisticated style that suits any woman's style. This Seiko Women's SUT068 is no exception. 
The special thing about this watch is that it runs on solar energy. The entire dial and band are in two-tone stainless steel with a bezel. Its overall appearance is very luxurious, no one thought that It just set you back more than $300. 
Besides, the Japanese quartz movement of this watch offers you durability and well-operated with proper care. You will never need to worry about repairing as often as other movements.
Price: $318.75
4. Tissot Classic Dream Stainless Steel Dress Watch Grey T1292101101300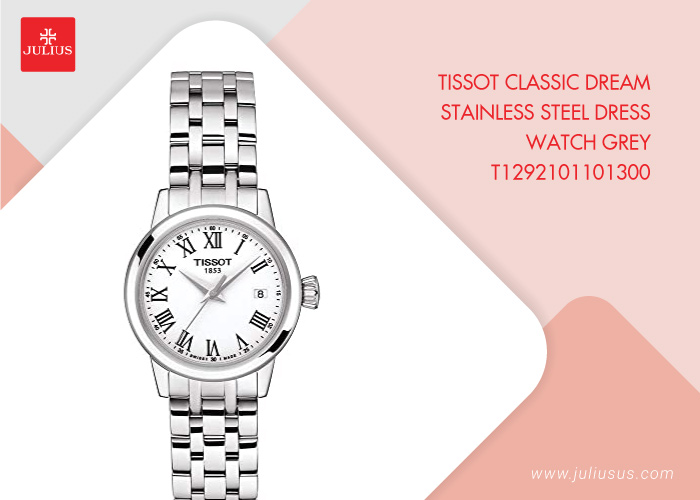 Tissot T129.210.11.013.013.00 is a women's watch from the T-Classic collection that is aimed at customers who prefer the elegant style. It has a classic and simple appearance. The case and band are made of high-grade 316L stainless steel, which is resistant to corrosion and can protect the inner movement from magnetic fields.
Tissot T1292101101300 has a durable, Swiss Made ETA F06,115 movement. In addition, this watch is also equipped with an EOL (End of Life) feature, which notifies the user when the battery is low. How does it notify? When the battery capacity is low, the second hand will jump every 4 seconds instead of moving every second as usual. 
Whether you need a watch to wear on a casual or formal occasion, this watch can be a good choice that can go well with almost all your outfits. 
Price: $345.00
5. Citizen EM0530.81D Eco-Drive
The Citizen EM0530.81D women's watch has a modern, youthful and elegant design that every woman loves. Using Eco-drive light energy absorption technology (Citizen's exclusive) that provides endless energy. Plus, this watch can be used continuously for at least 6 months with each fully charged.
Its movement also provides useful functions such as warning when it needs to be charged, or automatically disconnecting when the battery is full. The Citizen EM0530.81D has a mother-of-pearl inlaid dial that you can not take your eyes off.
In addition, the small diameter of the watch face (28.7mm) and minimalist design make it modern but equally luxurious. The strap is also designed to blend perfectly with the dial, creating a stunning piece of women's jewelry. 
Price: $345.00
6. Citizen Stainless Steel & Pink Silicone Band Ladies Solar Watch – FE7078-85A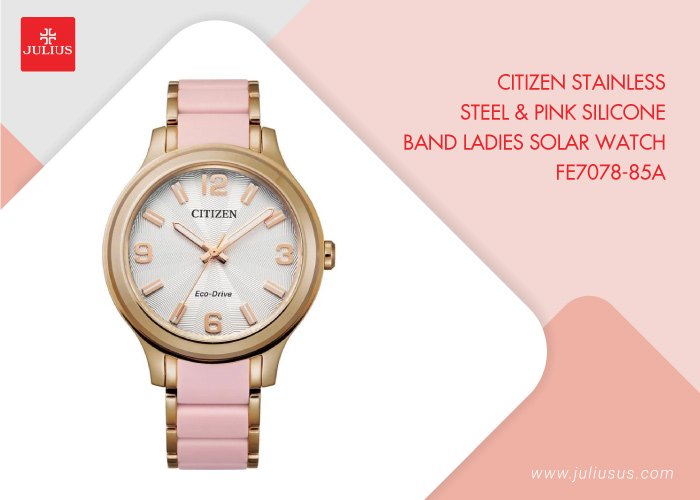 This is a great choice for pink lovers. Its watch has a 36mm pastel pink stainless steel case. Its dial features a beautiful pattern, which will be a great piece of jewelry for girls who love femininity. 
A special thing that Citizen has equipped for this watch is Eco-Drive technology – a modern and environmentally friendly technology. It works without a battery and is powered by not only sunlight but also any light.
If you are looking for a women's watch that makes you stand out immediately, or to give as a cute gift for friends, this Citizen Stainless Steel & Pink Silicone Band Ladies Solar Watch can be the best option. 
Price: $380.00
7. Candino Women's Quartz Watch with Gold Dial Analogue Display and Brown Leather Strap C4594/3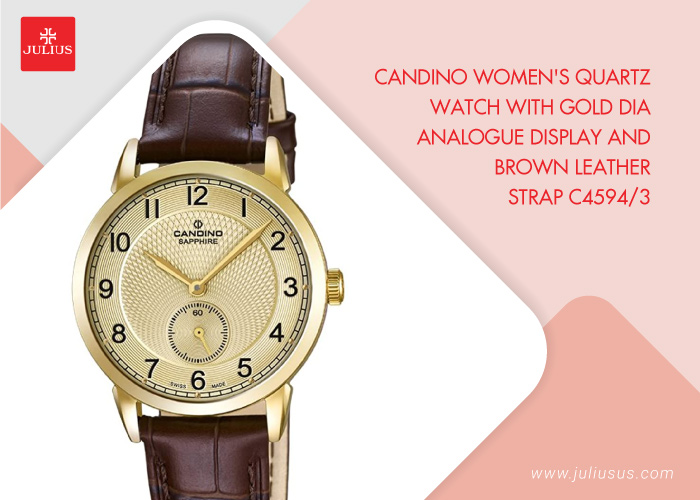 Candino has created the C4594/3 model with a wonderful combination of yellow and brown. The watch is crafted with elegant and refined lines that make it well-suited to the women who love vintage style. 
On its gold dial is a delicate mesh-like Guilloche decoration. The watch case is made of 316L stainless steel using advanced PVD color plating technology. These technologies and materials are the key elements to keep the plating color long-lasting over time.
Now, Imagine an autumn day, you put on a white shirt and wear this vintage watch on your wrist. How wonderful! It will turn you into a very dreamy and really attractive girl.
Price: $390.00
Finding a watch that fits your budget is not an easy task. So we hope our guide to the best women's watch $300 – $400 helpful for you. If you want to find Korean watches at a lower price but wonderful quality, visit other products on our website.
>> LET'S READ MORE:

Our Pick: The Best Women's Watch Brands Under $200 In 2021

[Top 5] The Best Women's Watches Under 500 Dollars For Every Style