When it comes to ladies, a watch is not only a tool to tell the time but also an accessory to make a statement about your style and personality. But, a great watch is not about the money, so you do not need to spend a big budget on a watch, these affordable watches that we are going to let you know all have luxurious designs and also incredible quality. In this article, we have come up with a list of the best women's watches under 500 dollars, so If you are in the market for women's watches at a mid-range price then you will find a great choice that can make your friends go green with envy.
1. Julius Star Korea Women's Watch JS-076C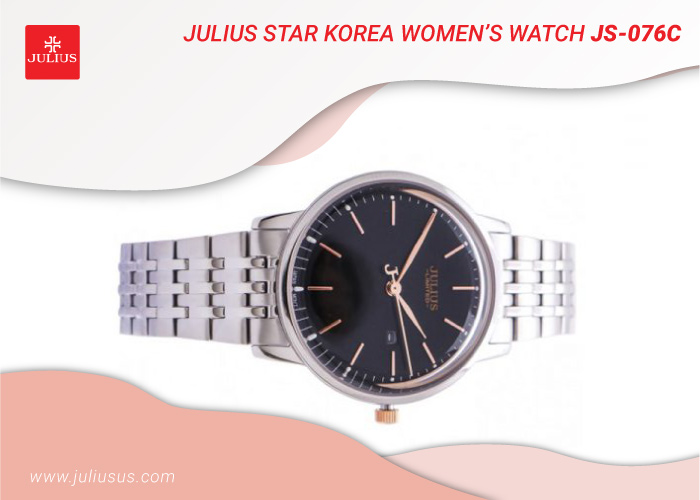 Julius watch is a famous Korean watch brand that should not be missed when you need a perfect watch without breaking your bank. Currently, Julius is available in over 30 countries and loved by many wrist watch buffs in the world. 
One of Julius watches under 500 dollars for women you can not ignore is Julius Star Korea Women's Watch JS-076C. Its case made of Stainless Steel with a dial window made of Sapphire Glass makes JS-076C truly shine in the light. 
Like a representative of luxury and class, this trendy watch never goes out of style with a silver band and black dial. It suits all your occasions in your life whether going to work or your weekend adventures. 
Features:
Movement is Quartz Japanese Miyota that offers you high quality but affordable pricing 

The classy design is one of the best choices to match easily your outfit and wearable in many different activities

The case size of 25 millimeters can display time and date obviously so you never miss a thing.

Enhance your style and compliment your look at a mid-range price
2. Julius Star Korea Women's Watch JS-040B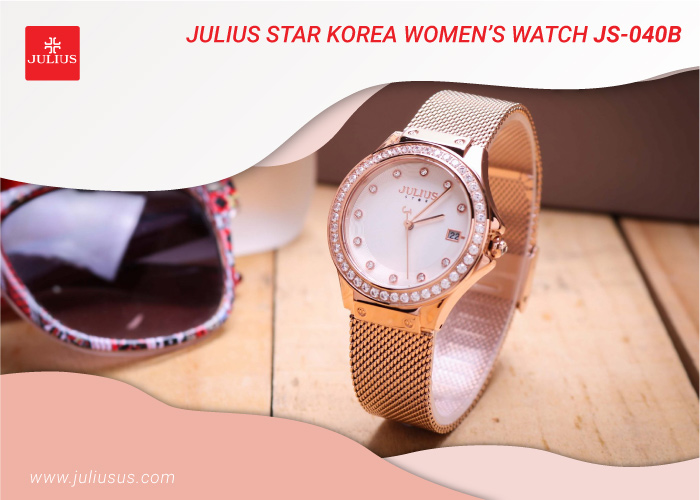 The next hot recommendation for you is Julius Star Korea Women's Watch JS-040B which is from the Julius Star collection of the Julius watch brand. What makes it the best choice for women? Buying this watch you will receive a combo 4 in 1, including a watch, 2 leather straps, and 1 glorious bronze bracelet. 
Wearing JS-040B will take you out of boredom and seriousness with its striking 3D watch face design, the combination of fine mesh alloy band and high-quality leather strap will completely help you show your fashion and also assert your individuality.
Especially, it has Stainless steel case is a high-end material that makes it a high heat resistance and anti-corrosion watch. So that, after a period of use, it is still durable and works well if you care for it properly.
Features:
The design can help you exalt the aristocratic, luxurious beauty, suitable for active and stylish women.

The durable, solid, and sophisticated design creates a perfect watch for regular use

It can be worn in the rain, washing hands thanks to 3 ATM water resistance. But do not wear it while bathing, swimming or diving.

The date calendar on its glass is a useful feature to help you manage time more effectively.
3. Tissot Flamingo T094.210.11.126.00
Next, A Switzerland watch brand under $500 we want to recommend to you in this article is Tissot Flamingo T094.210.11.126.00. Its design captured every woman's heart because it is so charming and dazzling, you can immediately stand out from the crowd when put it on your wrist. 
The delicate dials and carefully arranged diamonds create a complete time system. It can be said that this is a valuable addition to Flamingo when it captures the 2 in 1 trend of almost all women: combining a watch and style accessories into one.
Tissot Flamingo comes in 4 versions of colors so you can easily choose which one fits you best.  
Features:
Eye-catching design, suitable for every lady who wants to enhance her delicate beauty.

Swiss quartz movement, 316L Stainless Steel case that can scratch resistant effectively.

The stainless steel bracelet is one of the important parts that can keep its beautiful appearance over time

Water resistance up to 50m means you can wear it while swimming or showering.
4. Fossil Women's Virginia Watch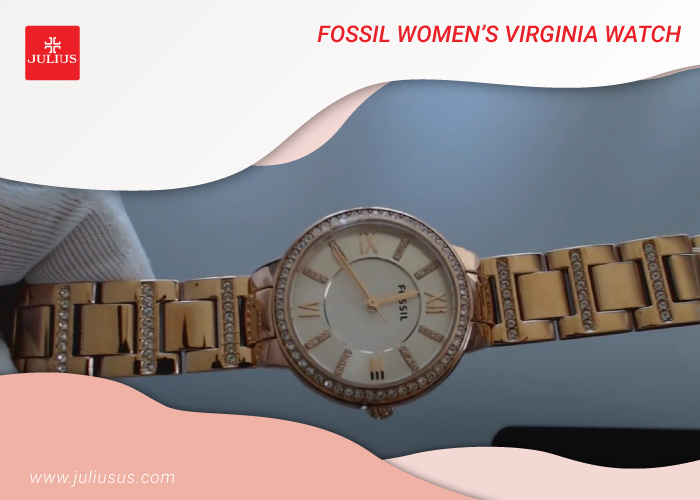 Fossil is a watch brand that always launches products blended stylish with good quality, and this Fossil Women's Virginia Watch is no exception. 
This watch is made of high-quality materials, It is durable and beautiful. With a simple and delicate design, Fossil Women's Virginia Watch is a good choice for you to compliment your elegant and trendy look.
Besides, the silver color of Fossil Women's Virginia can make it work well with your wardrobe. If you are looking for a watch that is all about fashion and value, then this watch can meet all your needs.
Features:
The case and band are made of stainless steel, making it very pleasing to your skin

It has an extremely luxurious design, suitable for all occasions and makes you stand out more than ever

It's also water resistant to 165 feet, eliminating your worries about water damage when you're exposed to water like bathing or even swimming. 
5. Timex Women's Waterbury Traditional Watch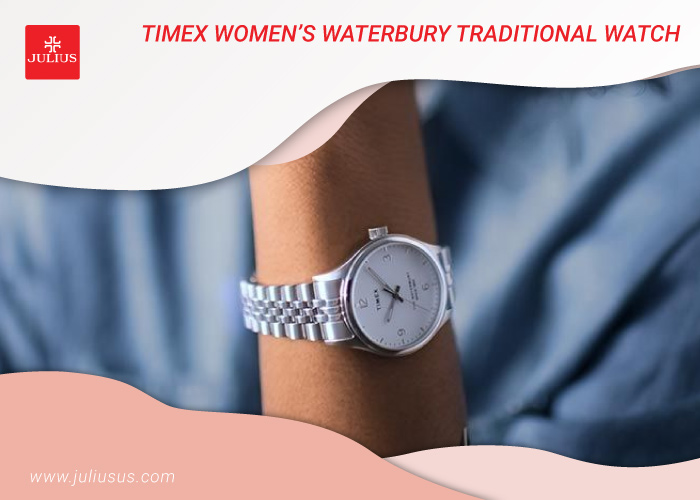 The Timex Women's Waterbury Traditional Watch is one of the watches that was launched to celebrate the 165th anniversary of the Connecticut Company.
Take a look at its appearance, it is designed in vintage, which is one of the fashion trends that is loved by many young people nowadays. Its case is made of stainless steel like other watches on the market but its color syncs with the color of hands so overall it attracts people at first sight. 
The leather strap is also an important reason that makes everyone say yes to this watch, leather material can bring you a comfortable feeling on your skin without itching or injuring  
If you are a busy woman that wants to track the time correctly but also wants to wear it in style, Timex Women's Waterbury Traditional Watch is a beneficial option for you. 
Features:
Quartz Movement is always good for you because of its affordable but high quality.

The leather strap keep you safe from injuring your skin

Water resistant: 3 ATM, you can wear it while washing hands and going under the rain
This is our best guide to the best women's watches under 500 dollars you can shop now on the market. We understand that choosing the right watch for women can be difficult and time consuming. There are many elements that we have to consider, so we hope the 5 watches for women under $500 we have listed above are helpful for you. After all, if you are still considering, do not hesitate to visit other amazing watches on our site to find one that fits you best.
READ NOW:

8 Best Women's Watch Brands Under 100 dollars ideas